OneFarStar turned to Prestige Label and Design for labels for their award-winning food
and beverage products.  The result was a collaboration and partnership that provided
value far beyond the labels themselves: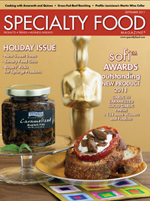 The company:  Meet Llance Kezner and his specialty food and drink company, OneFarStar.
The OneFarStar product line includes Garlic It!: gourmet caramelized garlic finishes, Millie's Savory Teas: comfort food in a broth, and Auntie Gretchen's Infused Water.  They specialize in creating specialty food products you've never seen before.
Garlic It! was named Outstanding New Product of 2011 in the Sofi™ Gold Awards for competition from the National Association for the Specialty Food Trade.  The Sofi Awards recognize excellence in specialty foods and beverages and are a coveted industry honor.
The Challenge:  As a small business owner and entrepreneur, Llance has struggled to keep up with managing a multitude of demands such as product creation, production, marketing and sales.  Keeping up with the industry standards for high quality are imperative to remain competitive in the market.
The Solution: Llance began working with Curtis McGann and Barcodes West to create labels that more accurately reflected the essence of his brand.  OneFarStar's products fit perfectly into the Prestige Label and Design retail label line.  Barcodes West adopts a four step process (plan, engineer, produce, and support), during which time his labels were refined, and the development of his new product enhanced.
The Barcodes West team was a significant part of the design process, and consulted closely with Llance on label material, carefully matching the concept to the label media.  His new labels are printed for him on a digital printer which allows for more flexibility with a brighter and appropriate look.  His horizons were also broadened with the introduction of eco-friendly labeling options fitting for his target audience.
The result:  With upgraded labels that match the character of his products, Llance can now go to market faster with confidence.  Acting as a true partner to OneFarStar, Barcodes West is involved in the production process by working directly with Llance's food manufacturers, so he doesn't have to get in the middle of providing the manufacturer with the labels.  Barcodes West also helped him comply with the nutrition labeling format.
Together, OneFarStar and Barcodes West can better work and look ahead, gathering all of the artwork in anticipation of the full process.  This allows for less stress, better collaboration between Llance and the manufacturers, ultimately increasing revenue, satisfying his customers and growing his business.